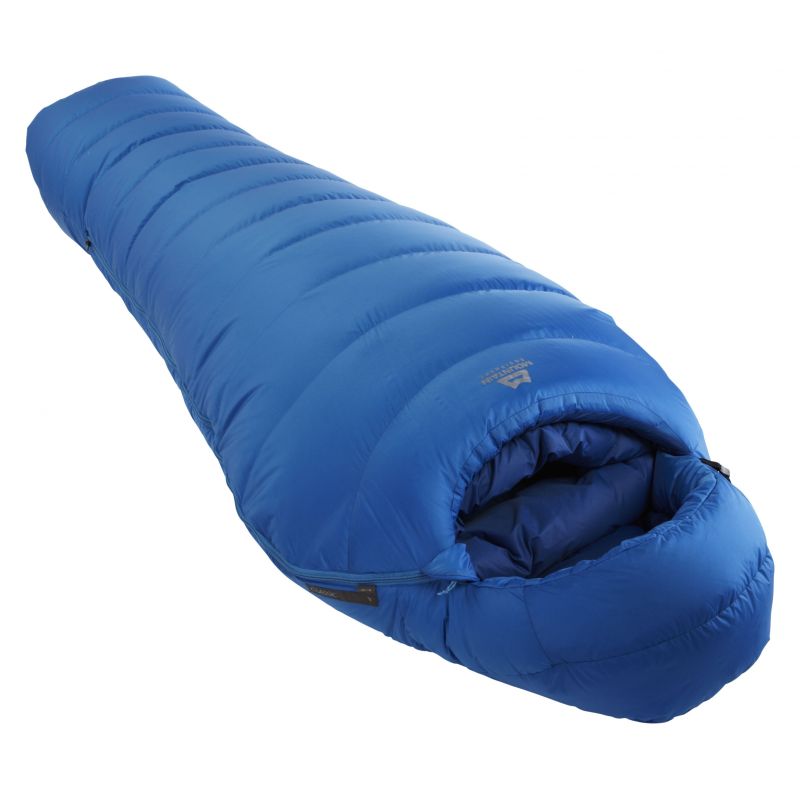 Classic 1000 - Down sleeping bag
Mountain Equipment
Free delivery & free returns
In stock
Order now and you will be delivered between We. 7 Oct. and Fr. 9 Oct.
Description
Recommanded use
Trekking / Hiking / Bivouac
---
Weight
Regular : 1 520 g - Long : 1 580 g - XXL : 1 650 g
---
Length
Regular : 190 cm - Long : 205 cm - XXL : 220 cm
---
Packed size
Regular : 30 x 26 x 24 cm - Long : 31 x 26 x 25 cm - XXL : 30 x 27 x 25 cm
---
Included in the delivery
Waterproof roll-top stuff-sack and storage cube
---
Trim Composition
90% fluff / 10% feathers
---
Foot Girth (cm)
Regular / Long : 50 cm - XXL : 60 cm
---
Tested Lower Limit (°C)
-16°C
---
Tested Extreme Conditions (°C)
-38°C
---
Fill Weight
Regular : 905 g - Long / XXL : 950 g -
---
Questions
Classic 1000 - Sac de couchage - Bonjour
J ai trouvé le sac de couchage Moutain Equipment Classic 1000 à 382,95 euros chez votre concurent Trekkinn ( https://www.trekkinn.com/montagne/mountain-equipment-classic-1000/136900375/p ) . Sur Hardloop il est à 439,95 euros . Pouvez vous vous aligner sur ce tarif ? Cordialement
PRO
Classic 1000 - Sac de couchage - Bonjour
Bonjour Jean-Marc,
Tout d'abord, je vous remercie pour votre visite sur Hardloop.fr !
Le sac de couchage Classic 1000 est demandé durant cette période de bivouac.
Pour votre information, le prix affiché sur notre site est inférieur à 439,95€. Malheureusement, je ne pourrai faire un geste supplémentaire.
Je reste à votre disposition pour tout complément d'information et vous souhaite une excellente journée.
Bien sportivement,
Mathilde - Equipe Hardloop
-----------------------------------------
Acteur engagé, Hardloop a déjà planté plus de 9 000 arbres et milite pour une consommation raisonnée.
Classic 1000 - Sac de couchage - Sac de couchage - Classic 1000
Bonjour, Nous avons décidé de participer au raid « La Saharienne », un raid sportif 100% féminin et solidaire, qui aura lieu au Costa Rica du 13 au 20 décembre 2019. Nous nous permettons de vous démarcher aujourd'hui afin de savoir si vous souhaiteriez vous associer à notre action. En effet nous sommes à la recherche de sponsor en terme d'équipement, et plus précisément nous recherchons des sacs de couchage avec une température confort avoisinant les -10° car tout le raid se fait en bivouac. Descriptif du raid : - Raid sportif : les sahariennes partent à la découverte de lieux exceptionnels reculés de toute civilisation, en canoë, VTT, Trail ou encore natation. Entre Swim &Run, biathlon, Trail nocturne ou encore descente en rappel, les Sahariennes se surpassent grâce à un programme sportif varié. - 100% féminin : 50 équipes composées de 2 femmes - Solidaire : chaque équipe représente une association L'association que nous avons décidé de soutenir, c'est l'association B-Aba Autisme. B-aba autisme est une association loi 1901 ayant pour vocation d'aider les enfants atteints de TSA (Troubles du Spectre Autistique) et leurs familles. B-aba réalise un suivi psycho-éducatif auprès d'enfants autistes et apporte un soutien financier et psychologique aux familles. http://www.baba-autisme.com/ L'un des membres fondateur et psychologue de cette association est la cousine d'Isabelle, nous essayons donc de les faire connaitre à un plus large public et leur apporter notre aide en terme de subvention garce à la dotation qui leur reviendra en fonction de notre classement à l'issu du raid. Dans l'espoir que vous serez sensible à cette demande. Sportivement, Isabelle et Séverine, la Team AUTIST'Raidy.
PRO
Edgar
- 09/10/2019 à 15:17
Classic 1000 - Sac de couchage - Sac de couchage - Classic 1000
Bonjour Isabelle et Séverine,
Tout d'abord, merci pour votre solicitation auprès de notre société.
Bravo pour ce projet avec de belles valeurs !
Etant une start-up encore à ses débuts, il est difficile pour nous de vous offrir un soutien financier ou une dotation de matériel.
En revanche, il est possible de faire un geste sur les différents articles dont vous avez besoin.
Je vous propose de nous contacter sur l'adresse "hello@hardloop.fr" pour que nous puissions échanger plus en profondeur au sujet de ce beau projet.
Je vous souhaite une excellente fin de journée.
Bien sportivement,